Try saying that title five times fast. If you think this is satire, it isn't. The legitimacy of Facebook's "fact-checkers" is in even more dire straits as they continue to remain politically-biased while promoting a narrative that is only one-sided and devoid of any dissent or opposition.
Politifact, one of the most notorious "fact-checkers" employed by Facebook to censor any opposition to its mainstream viewpoint has now "fact-checked" the warning label on the side of a box of facemasks that warn the user that the product offers "no protection" against COVID-19.
The warning label reads in large bold all-caps print: "THIS PRODUCT IS AN EAR LOOP MASK. THIS PRODUCT IS NOT A RESPIRATOR AND WILL NOT PROVIDE ANY PROTECTION AGAINST COVID-19(CORONAVIRUS) OR OTHER VIRUSES OR CONTAMINANTS."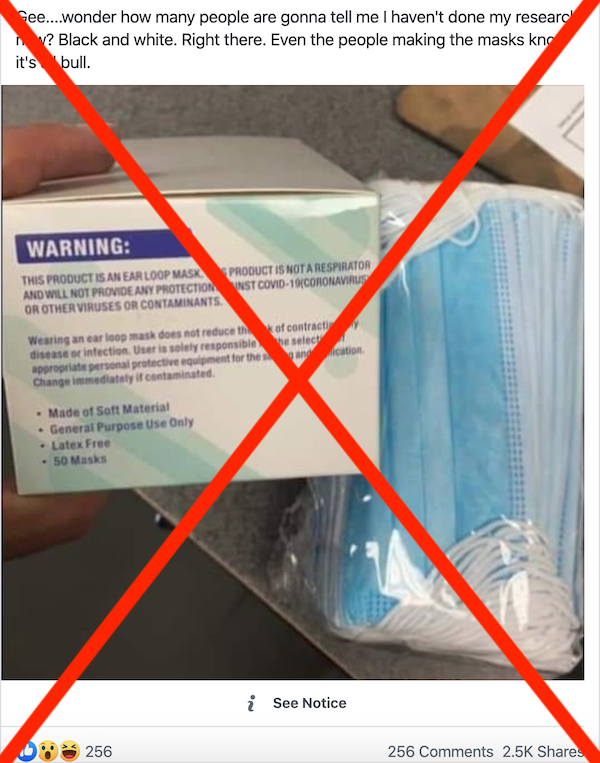 Politifact's response: "Mask box label is legitimate, but people are misinterpreting it." Therefore, it has been marked as "false" on Facebook posts. It's not exactly clear how else you're supposed to interpret "WILL NOT PROVIDE ANY PROTECTION AGAINST COVID-19" other than it won't provide any protection against COVID-19.
Politifact outright says that a Facebook post that says a warning label on a box of disposable masks shows that they are ineffective at protecting against COVID-19 is false.
This is absurd, at best, and clearly an attempt at silencing any opposing voice on this issue. It's a good thing that Candace Owens is suing Facebook for their repeated slandering and libel against people with their false fact-checking scandal.